Walkup window.
Dip tray in stainless steel for new or remodeling installations.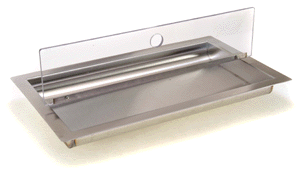 #1811 With Wind Guard
Available with or without 1/4" lexan wind guard mounted on a stainless steel hinge. Measures 18" x 11" overall and is suitable for indoor or outdoor installation. It needs a 16" x 9" counter top opening. The transfer tray is 1-5/8" deep.