FOR LARGER SWITCHER DIAGRAMS
CLICK ON DRAWINGS BELOW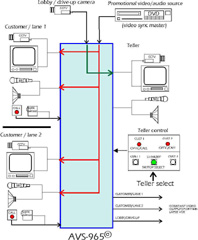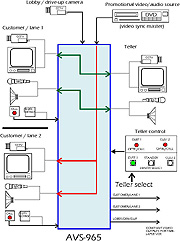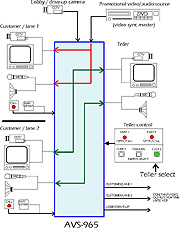 Announcing... BankMark AVS-965© A/V Switcher
A one box solution for teller-to-customer interaction.

The AVS-965 is a complete 2-channel audio/visual communication system for teller-to-customer interaction. It contains everything needed to hear and see customers, sense their presence, call the teller, and present promotional video.
In use, while the system is in standby, the customer station plays a multimedia presentation from a DVD player or other A/V source. The teller can view overall drive-up activity. When a customer approaches, an optic sensor activates an indicator light alerting the teller. The teller can then select
that channel enabling high quality simultaneous communication. If another customer approaches, the channel indicator light will turn on. The teller can then switch between either customer or standby with a single touch. At any time a customer can call the teller with a beep which will activate the customer's optic sensor light to flash for approximately 10 seconds. All the video cameras are provided a sync signal derived from the promotional video source for perfect roll-free screen changes. Multiple subsystems can be syncronized to one video master for larger installations. The AVS-965 also provides a continuous video feed from each customer camera and the drive-up area camera for security VCR.
The AVS-965 switcher box (10"x6"x4") is not supplied with any external devices shown in the illustrations. All of these items are available through most popular security equipment distributors.