The POLY-GARDTM medical liner is a zippered pouch with a foam insert. The body is a special vinyl, coated with polyurethane. If liquids are to be transported in a pneumatic tube system - regardless of the type of carrier - we urge the use of this pouch. This is a proven item of protection.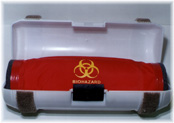 For A Better View Click On Pictures
POLY-GARDTM Zipper Pouch The pouch has a foam insert which is white and highly absorbent. The handler is able to see any color change of the foam and take proper precautions.
YOUR PNEUMATIC TUBE SYSTEM WILL SAFELY TRANSPORT LAB SPECIMENS & PHARMACEUTICALS WHEN YOU CHOOSE - AND USE - A POLY-GARD LINER.

Eliminates powdering and breakage of pharmaceuticals.
Reduces chance of carrier contamination.
Protects personnel handling carriers.
Inserts meet requirements for the transport of blood or other potentially infectious materials in pneumatic tube systems.
Required biohazard symbol is permanently affixed to pouch which prevents any loss or unintentional removal of pouch.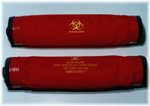 These medical liners are available in colors with or without Biohazard Logo.
Convoluted foam, high-density Ester foam & zippered pouches in several colors and styles are offered for 4" and 6" carriers.