SINGLE END-OPENING
ETLK-6076-VBLeakproof 6"
O.D. 5.76" O.L. 14.625"
Shown With #POLY-6M-YZ Liner











OptionalSecurity-Seal®







THE ADVANTAGES AT A GLANCE
Extremely practical: The standard model of this 6" FLAP-TOP carrier -- without the watertight gasket -- has the same easy-open, wide-access lid which can be used for a variety of applications.
Either the standard 6" or leakproof 6" can be used with or without an inner lining or PolyGard® zipper liner. The VonSeal® Transport Bag is available for liquid tight security for added protection to anyone handling a sensitive shipment. Security-Seals may be used with either model.

SNAP, CLAMP, LEAKPROOF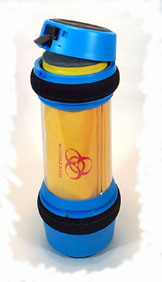 WATERTIGHT GASKET IN LID
OPTIONAL ZIPPER LINER

EASY OPEN FEATURE
PRESS IN ON TOP OF
BLACK TAB
WIDE ACCESS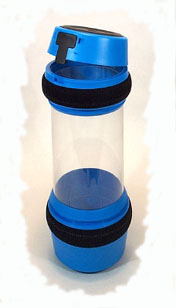 #ET-6076-VB
Standard 6"
O.D. 5.76" O.L. 14.625"
CLEAR VIEW INSIDE
WIDE RIDER BANDS
FOR SMOOTH
DELIVERY